Let your property
Landlords
Our letting & property management service is tailored to each landlord's requirements.

Our landlord services
We offer two levels of support to landlords, but these can be tailored to your precise requirements depending on how involved, or hands-off, you want to be with the day-to-day running of your property.
Tenant Finder
9.6%
(8%+VAT)
If you are an experienced landlord you may wish to take on the on-going management of a tenancy yourself. Our streamlined Tenant Finder service covers the essentials: marketing your property and securing a suitable referenced tenant in-line with your requirements.
Start a conversation
Key Features:
Agree Price & Marketing Strategy
Advise on Compliance & Licencing
Photography & Floorplan
Market through property portals
Accompanied Viewings
Process Offer & Negotiate Terms
Referencing & Tenancy Agreement
Assist with Tenancy Start preparations
Fully Managed
14.4%
(12%+VAT)
Our Fully Managed service means our experienced team taking responsibility for the complete management of your property. Ideal for first-time or hands-off landlords, it covers everything you might possibly need plus ensuring you have your legal compliance covered.
Start a conversation
Includes everything from Tenant Finder plus:
Safety Compliance
Inventory & Check-in
Deposit Protection
Rent Collection
Property Maintenance Support
Regular Inspections
Landlord Accounts & Tax Support
Tenancy Renewals
End of Tenancy Handling
Choosing a plan
Unsure which support plan is best for you? Speak to our friendly property management team for more details.
Reasons to let with Oakwood
With a proven track record, experienced staff and vetted and trusted contractors, you can rest assured that your property is in the safest possible hands.
Accurate
Valuation
Proven Track
Record
Award-Winning
Team
Affordable
Lettings Fee
To-Let
Board
Professional
Photography
Precise
Floorplans
Rightmove,
Zoopla & Others
Fault Reporting
for Tenants
Advice &
Support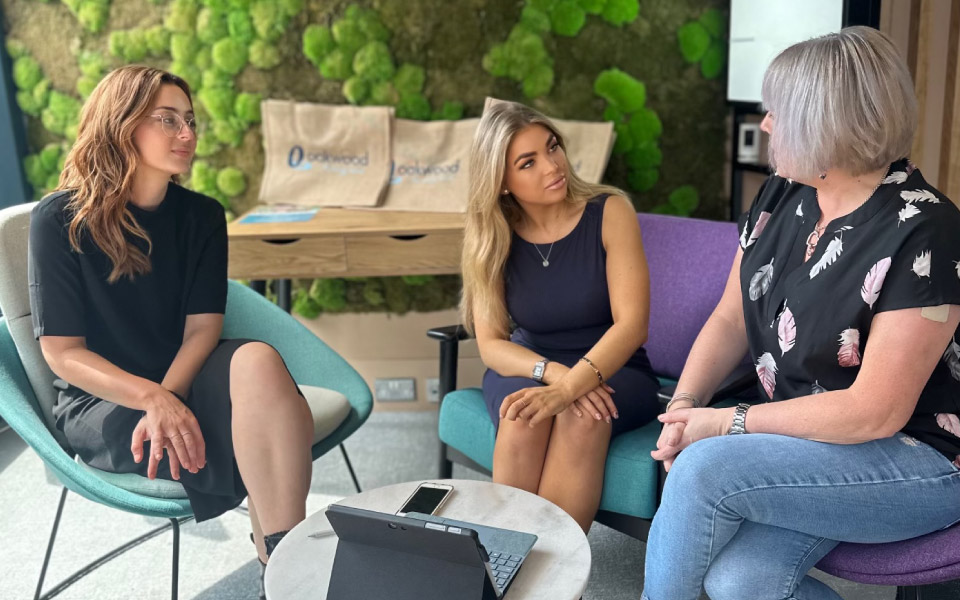 Our experienced lettings team
Our straightforward, proactive style and personal touch sets us apart from the corporate chain estate agents. Providing excellent service is key for us, borne out by our many 5-star reviews on Google.
Allow our lettings & management teams to take the stress out of your rental with our professional guidance and expert knowledge. We can also ensure that your property and tenancy meet all legal requirements, protecting both your property and your tenants.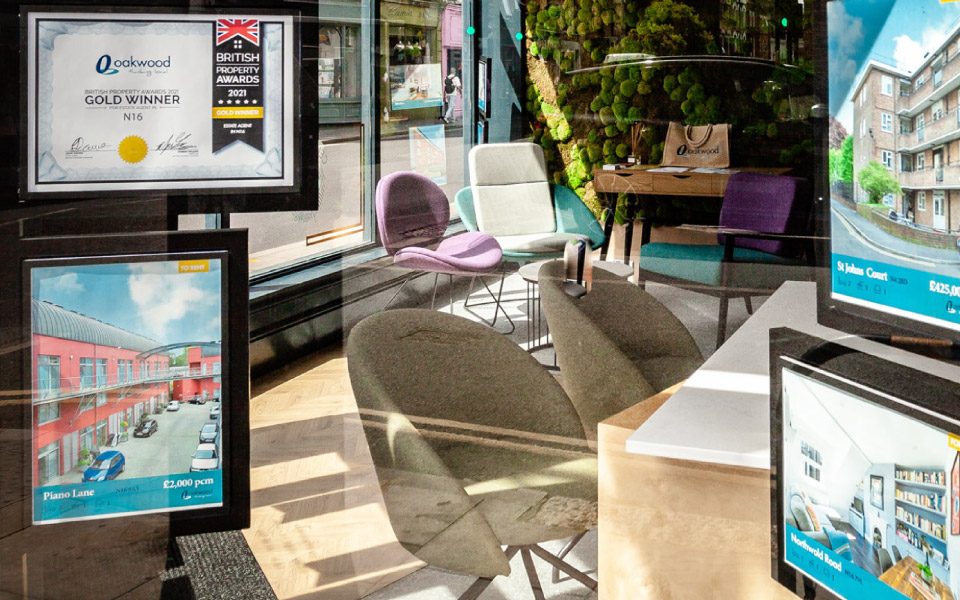 Award-winning agents in Stoke Newington
We believe the level of customer service we provide is key to our success. As well as looking out for our landlords best interests we also ensure tenants needs are addressed promptly and effectively. Happy tenants make for happy landlords and we have the tools, processes and tradespeople to ensure any issues that might arise during a tenancy are taken care of.

First time landlord
Excellent local estate agent in the heart of Stoke Newington. They made letting my property for the first time as easy as possible and have done a great job looking after the whole process with honesty and professionalism. Genuinely a really nice team to deal with and highly recommended.
Bonnie is an absolute star
I can highly recommend going with Oakwood Estate Agency. The whole process from start to finish was dealt with care and professional at all times. The team at Oakwood are very friendly and totally know their stuff on both selling and rentals. Especially Bonnie, who was dealing with my property. She kept me updated on various things and viewings to completion, which I must say wasn't long. Bonnie, differently, went the extra mile an absolute star.
Great communication throughout
We were under some time pressure to get our flat rented which Ella & Rebecca managed to do in a couple of days! They had pictures and marketing up and running all in the same day with 7 viewings booked for the following day. This resulted in multiple offers and we found some lovely tenants. A massive thank you to this friendly team with great communication skills throughout both processes. Big thanks to Ella & Beck especially!
A stress-free process end to end
Oakwood N16 have repeatedly let my flat out very quickly, with little or no rental void periods. The support team at Oakwood are all really helpful assisting the tenants moving in and out. A stress free process, end to end.
Supporting a hands-off landlord
I throughly commend using Oakwood Estate Agents for lettings. As I live over 200 miles away from the property it can be difficult to run remotely, but Clare made it very simple. She has great knowledge of all the leaseholder's legal requirements, and dealt with all the tenants' issues and maintenance problems quickly and efficiently. Even their rates are competitive.
Always honest and reliable
We bought our flat through Oakwood, lived in it, and then rented it out through them and also sold it with them. I would highly recommend Jay, Clare and the team. They are always honest and reliable without the usual estate agent BS lingo. If you are looking for a decent estate agents in the area then this is who you are looking for! I would say I have quite high standards and they met my needs. Thank you.
Wonderful services for local landlords
I am a private landlord and have been using Oakwood estate agents for several years now for the rentals of my local properties. I can highly highly recommend Oakwoods estate agents N16 for your property service needs! The teams there are very knowledgeable and helpful in all my times of need. Thank you for your wonderful services and I look forward to long term business in the future!
Never been empty in over 16 years!
I have been renting a flat out with Oakwood's for over 16 years now. It's never been empty! My current tenants have just signed for a 4th year and I'm thrilled. Great service from Clare, but all the team are lovely, knowledgeable and happy to answer queries. Fabulous.
Going above and beyond
Oakwood Estate Agents has let my property for the last 10 years, whilst I was lucky with the tenants over that period. I had the inevitable maintenance issues that occur. The staff at Oakwood and particularly Clare Farrugia were extremely helpful in finding contractors, getting quotes and overseeing work. In addition, when I finely decided to sell the property Claire and her team, helped me remove the furniture and organize painters and builders to prepare the property for sale. Without Clare going above and beyond I would not have been able to do this from the US.
Taking the hassle away
The process of taking your home from somewhere you live to "tenant ready" is a stressful one but Oakwood did a fantastic job taking a lot of the hassle away. The tradesmen they use are professional and do a very good job and the communication and speed of action from Beck in particular is top notch. Ella did a super job with viewings and finding great tenants for my house. Highly recommend Oakwood as an agency of choice for rentals based on experience.
Consistently excellent service for several years
Consistently excellent service as letting and management agents. I have had my property with them for several years and they are consistently focussed on any new legal requirements for me as a landlord and always get maintenance issues sorted quickly and at a reasonable price. I am seriously considering buying another property in the area simply to utilise Oakwood's services further.
Book a valuation
A valuation in-person at a time convenient for you. We'll advise on how to achieve a smooth rental at the best possible price.
Compare our service plans
We offer two core packages for Landlords. Tenant Finder is a more DIY approach that sets you up with the essentials for you to then manage going forward. Whilst the Fully Managed package covers everything you may need for a hands-off and hassle-free experience.

You can compare the full features below to help you choose whichever works best for you. But do get in touch if you have any questions or would like to discuss tailoring a plan to your requirements.
Fees - Our fee, with no hidden costs, simply a percentage of monthly rental
Preparation to Let - Agree price and marketing strategy and advise on compliance and licencing
Marketing - Arrange professional photography and floorplan creation
Marketing - List property on property portals and market to our database
Marketing - Erect To-Let board at the property
Viewings - Arrange appointments and accompany viewings
Process Offer - Negotiate terms and assist with conditions of offer
Referencing - Carry out credit checks, employment and previous landlord references
Tenancy Start Preparation - Make arrangements for cleaners and inventory clerk
Tenancy Start Preparation - Host key collection at our office
Safety Compliance - Arrange and track Gas Safety check, Electrical Condition Reports & adherence to Smoke and Carbon Monoxide regulations
Inventory - Arrange a professional independent inventory report and check-in tenant
Utilities - Manage the transfer of utilities and council tax
Deposit Protection - Register and protect the tenants damages deposit inline with current regulations
Rent Collection - Collect rent and automatically deduct monthly fees along with any agreed work/purchases arranged
Rent Collection - Track and pursue non-payment of rent and provide advice and support on rent arrears actions
Maintenance - Arrange routine repairs and instruct approved contractors
Maintenance - Advise and assist in scheduled updates and property improvements
Maintenance - Hold keys throughout the tenancy term
Inspections - Carry out regular visits, report on condition and advise on maintenance
Accounts Support - Provide regular statements and annual report for tax
Accounts Support - Collect and arrange for non-resident tax payments
Tenancy Renewals - Handle rent reviews, negotiations and tenancy renewals
End of Tenancy - Arrange for notices to be served to end a tenancy
End of Tenancy - Closure of tenancy including check-out and process of deposit returns/claims and notifying utility companies
Choosing a plan
Unsure which support plan is best for you? Speak to our friendly property management team for more details.
Value my property
With over 25 years experience in Stoke Newington and the surrounding areas, our team are skilled at pricing local property accurately.